The net-m Maxmedia Platform provides an outstanding end-to-end solution for the marketing and distribution of multimedia contents to users. Be it via mobile portals on your device, on internet portals or with on-device applications and offline in the printed media or on radio and televisions, e.g. TV-formats, this platform offers a fully managed services across all distribution channels (mobile, web and voice).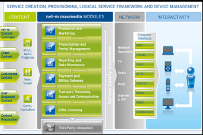 In addition to the platform, both net-m and 8elements have an extensive content portfolio of music, ringtones, games, wallpapers, videos and screensavers. We can also integrate your digital content into the net-m content portfolio for the launch of your service.
For more on the net-m Maxmedia Platform, please check out the flash tour here.
For more information on net-m's banking and payment, digital enabling and innovative interactive services, please click here.